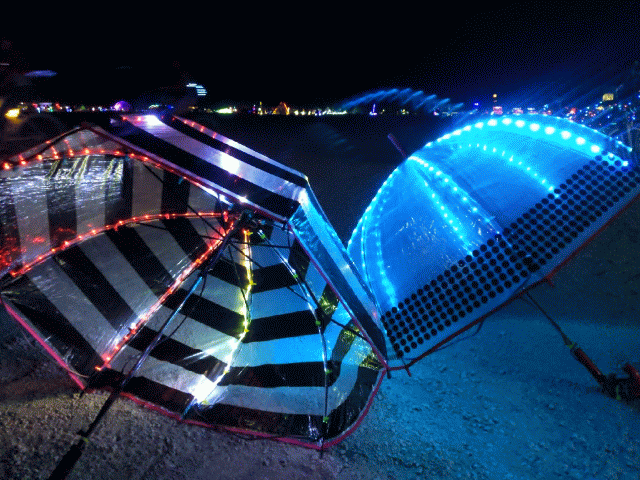 Umboris
The Umboris was my first attempt at porting over the work that I had previously done on the larger installation. These were two matching clear, plastic umbrellas inlaid with five meters of LED strands each, controllable by a small box with three buttons attached to the handle. Both were able to be made quickly, just in time for Burning Man 2019 and I'm excited to see just how easy it is to move the code from one project to another.
My hope is begin making a number of different wearable items deriving from the same base of light, color, and interactivity.
The Tesseract
This was a small project done in time for festival season many years ago. Lovingly dubbed the Tesseract (shhhh…), this was a DIY project found online with a twist. This was my first attempt at soldering to such an extreme scale (there were more than 2,000 individual solders). The animations were simply available online. Where we added to the project was in the portable battery module connected to the large wooden pole inlaid with LEDs and acrylic. The project is portable as a festival totem, or can be set on a smaller, stationary base.